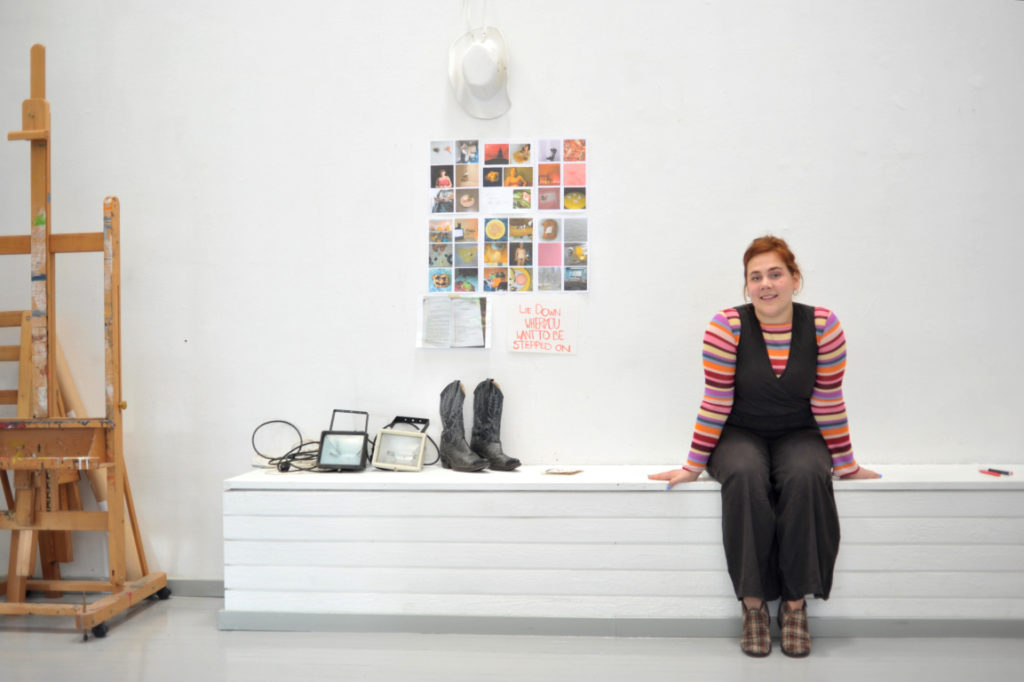 IN CONVERSATION WITH HANNA IJÄS AT THE TAPIOLA GUEST STUDIO

30.12.2020
Interview & images: Ida Taavitsainen
Hanna Ijäs is the current artist-in-residence at the Finnish Artists' Studio Foundation's Guest Studio in Tapiola, Espoo. Ijäs is from Lahti, Finland, but has made her artistic career in The Netherlands. She studied at the Royal Academy of Art in The Hague and has a bachelor's degree in autonomous art. Ijäs makes performances, installations and videos. In her theatrical, politically charged performances, she studies power relations in social contexts through spoken and written language. How manipulation methods like seduction, love, fantasies, DIY and gamification are used to guide and control.
It was Covid-19 that made Ijäs return to her home country. She applied for the residency in Tapiola to be able to work in a studio environment and to acquaint herself with the Finnish art scene. Ijäs already spent September 2020 in the studio and is there now for a second period from November 2020 until March 2021. Her residency is generously supported by TAIKE's Covid-19 support, Paulon Säätiö and Stroom Den Haag.
The themes of your work seem quite timely – your residency began just as the world was holding its breath and waiting for the results of the American presidential elections. Are current world politics influencing your work?
I do follow the media and politics actively and spent the first days here in the studio obsessively checking the news on the results of the American elections and the news in Holland, as the Me Too scandal of the Dutch art world was unfurling simultaneously. It feels like everything I've been working on is now even more relevant than before. It seems like my somewhat humoristic speculations in my work are becoming and have already become true. We're all part of this LARP that has gotten out of our hands. It's alarming, and it's making me question my work, but also to be more attentive to it. I'm thinking of how I can start my own spin-off productions within this mass operated piece we are involuntarily participating in!
You already had a short stint at the guest studio in September and created an auto-fictive performance during that period. How is it to work with performance art in the time of Covid-19 restrictions?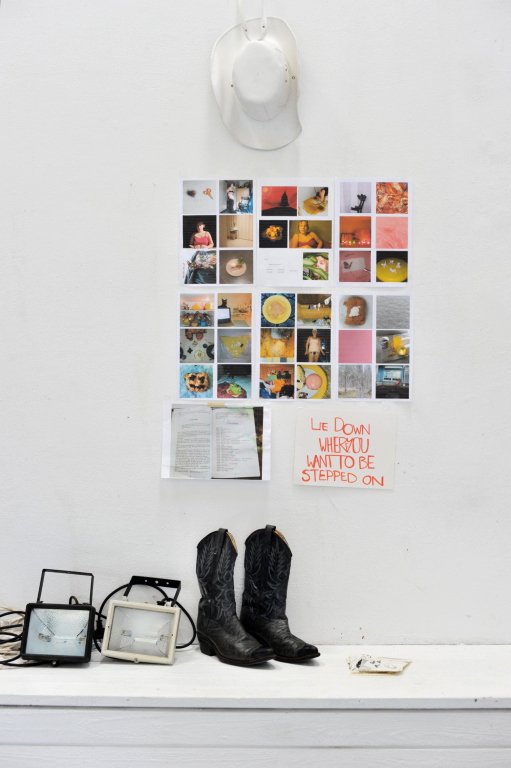 My residency period in September culminated in a Zoom-performance titled Lie Down Where You Want to be Stepped on. It was performed in the guest studio without a physical audience and live-streamed to De Helena gallery in The Hague. It was an interesting experience to say the least! The performance investigates romantic relationships within a deserted body and mind. It's an auto-erotic love story that fantasises about flash, flesh and proximity. It's a work in progress that I continue working on. This whole situation with Covid-19 has made me think even more of alternative ways of performing. As a performance artist your art form often requires physical presence, which is maybe not always the most convenient and sustainable way of working. The current crisis has made me think more about environmental issues and the necessity of travelling. At the same time I believe new impulses, seeing the world and meeting new people is very important for artists. Residencies also usually provide new working spaces and social environments, which is not something every artist has access to.
Lately, I've been interested in Youtubing as a format and thought a lot about public, non-physical spaces outside the realms of the gallery system, where performance could exist and reach a potential audience. Youtube, Instagram, the text message page of a newspaper, teletext or a newsletter could be possible platforms for this. Also social constructions, like status as a stage and its performativity and the morality of it interests me.

You were born and raised in Finland, but have lived the past eight years abroad and done your artistic career abroad. Are you familiar with the art scene in Finland or do you feel like a stranger in your own country?
I do feel a bit like I'm a guest here and due to the current Covid-19 situation, I haven't been able to socialise as I normally would. It's strange to be in a residency without meeting people. I'm not from around Helsinki, so I don't know that many people here and now that everything is closed again there's no natural social gatherings like openings, where I could meet people. The Finnish Artists' Studio Foundation is trying to organise some online meetings with industry professionals for me, so I hope that will work out. It would be a great opportunity to share and talk about my work and ideas with someone.
All in all, I'm really enjoying the residency and spending time in the studio. At first, the scale of the studio was a bit intimidating, but now I've found a good balance with the space and we co-exist in harmony. Sometimes you can have a language or cultural barrier to overcome when you first arrive at a residency, but since I don't have that here, I've had more time and space to focus on my research and my creative process. This has been a time of introspection and the lack of social or other outer pressure has really helped me find functional and sustainable working methods for myself.
What are you working on at the moment? Is it performance or something else?
I've been researching, writing and experimenting with different methods of storytelling. So right now I'm mainly working on text. I have managed to find a good writing rhythm, which is a great space to be in. I'm working on a script for an "audio play", which will be a mix of storytelling and audio spaces, but exactly when and how it will be realised is still not set. I think it might be more of a long-term project. It is stemming from my performance Lie Down Where You Want To Be Stepped On. Besides that, I've also been drawing and visualising scenes and set designs. I'm working on short series like videos that are related to the audio piece. I'm hoping to start filming after the new year!
I understood this is not your first residency, that you have also been artist-in-resisdence at Méduse in Quebec City in Canada. The Finnish Artists' Studio Foundation has a residency exchange with them, but you went there independently. Want to tell us a little bit about that experience?
I first heard about Méduse while working at HIAP. I got to know a Canadian artist, Julie Lequin, who first told me about the place. It sounded interesting so I applied for a residency there managed by the contemporary art centre l'Œil de Poisson in Méduse. The residency included a studio, a living space as well as access to a wood and metal workshop with technical support and an exhibition at the end of the residency – and all of this is housed in the same building in the centre of Quebec City! It's truly great.
I applied with a project plan and the residency took three months. The one-month exhibition at the end is not counted in the residency period, so most artists leave once the exhibition opens. In my exhibition Thirst Trap I showed videos and a site-specific installation and I was also performing in the gallery, so I stayed for another month in Canada and rented a room from a wonderful local artist and a friend of mine Delphine Hébert-Marcouxfor that period.
I can highly recommend the residency at Méduse. Quebec has a very interesting art scene with art galleries, festivals and the Quebec City Biennial. The alternative music scene – for example Punk- is also strong there and worth checking out. And the natural landscape of the surrounding area is so beautiful.
What are your plans after the residency, are you returning to Holland or what is your plan?
I really don't know yet! Now that I'm here in Finland, I should explore my home country further. At the same time keeping my eyes open for interesting opportunities! With my cat Antonio we can go wherever life takes us!
Thanks a lot and enjoy the rest of your residency!
Hanna Ijäs https://pilvi.hotglue.me
The Tapiola Guest Studio https://www.ateljeesaatio.fi/en/guest-studios-and-residencies/tapiola-guest-studio/
Méduse www.meduse.org