Current residents
Sophie Bédard Marcotte (CA)
Residencies: 23.9.-20.12.2021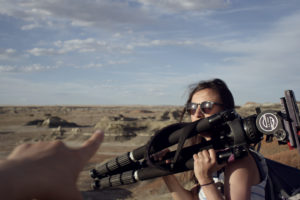 Sophie Bédard Marcotte is a filmmaker based in Montreal, Canada. After studying film production at the Mel Hoppenheim School of Cinema, she directed a first fiction entitled WINTER CLAIRE in 2017, which was presented at Festival du Nouveau Cinema, the NYC Independent Film Festival and the Cineteca Nacional in Mexico. Her documentary essay, L.A. TEA TIME, premiered at Visions du Réel in 2019, before being presented at the International Documentary Festival Amsterdam (IDFA), the Vancouver International Film Festival (VIFF) and Hot Docs.
During the residency, Bédard Marcotte intends to concentrate on pre-production stages of her artisanal film project titled "Carmen from Planet Faraway". She will focus on writing the script and drawing the storyboard. She will also work on two other projects. One of them is a hybrid short documentary film that focuses on the relationship between trees, exploring themes of solidarity, interdependence and mourning in love. The other project studies the geological formations of rocks.
The residency is realized in collaboration with Conseil des Arts et des Lettres du Québec.
In Finland, the residency is made possible with the support of the Arts Promotion Centre of Finland and the City of Espoo.
Past residents
From Quebec, Canada
– residency exchange with Conseil des Arts et des Lettres du Quebec:
Andréanne Godin, 1.9.-31.12.2019
Josée Dubeau, 1.9.-31.12.2018
Manon Labrecque, 1.9.-31.12.2017
Barbara Claus, 1.9.-31.12.2016
Suzanne FerlandL, 18.9.-20.12.2015
Jacynthe Carrier, 17.9.-31.12.2014
Georges Audet, 1.9.-31.12.2013
Annie Conceicao-Rivet, 1.9.-31.12.2012
Virginie Laganière, 1.9.-31.12.2011
Jean-Yves Vigneau, 1.9.-31.12.2010
Emmanuelle Léonard, 1.9.-31.12.2009
Diane Morin, 1.9.-31.12.2008
Claudette Lemay, 1.9.-31.12.2007
Ana Rewakowicz, 1.9.-31.12.2006
Carl Trahan, 1.9.-31.12.2005
Stephanie Morissette, 1.9.-31.12.2004
Louis-Pierre Bougie, 1.9.-31.12.2003
Jean Pierre Aubé, 1.9.-31.12.2002
Sylvie Cotton, 1.9.-31.12.2001
Karen Trask, 1.10.2000-31.1.2001
Annie Thiboult, 1.9.-31.12.1999
Pascal Dufaux & Chantal Neveu, 1.9.-31.12.1998
From Tokyo, Japan
– residency exchange with Youkobo Art Space:
Tomoko Kawai, 1.5.-30.6.2019
Tetsuro Kano 1.5.-30.6.2018
Kazuo Yoshida 1.5.-30.6.2017
From Switzerland & Germany
– residency exchange with iaab / Atelier Mondial:
Hösl & Mihaljevic, 4.2.-31.7.2014
Uta Pütz, 10.1.-30.6.2013
Anna Scholer, 1.1.-30.6.2012
Oliver Minder, 1.1.-15.7.2011
Bianca Dugaro, 1.1.-30.6.2010
Christian Schuler, 1.1.-30.6.2009
Antoanetta Marinov, 1.1.-30.6.2008
Maja Rieder, 1.1.-30.6.2007
Ralph Bürgin, 1.1.-30.6.2006
Samy Kramer, 1.1.-30.6.2005
Jeannette Mehr, 1.1.-30.6.2004
Maya Bringolf, 1.1.-30.6.2003
Monika Rechsteiner, 1.1.-30.6.2002
Susanne Schär & Peter Spillman, 1.2.-14.8.2001
Francoise Caraco, 1.-30.6.2000
Esther Hunziger, 1.1.-30.6.1999
Monica Studer & Christoph van den Berg, 1.3.-31.8.1998
Christine Camenisch, 1.9.-31.12. 1997
Other guest artists:
Gabriel Charlebois-Plante (CA), 30.9.-1.11.2021
Kholod Hawash & Saddam Jumaily (IQ/FIN), 1.4.-31.8.2021)
Hanna Ijäs (FIN/NL), 1.-30.9.2020 & 1.11.2020—31.3.2021
Jarkko Räsänen (FIN/DE), 1.10.-31.10.2020
Hanna Ijäs (FIN), 1.9.-30.9.2020
Markus Jäntti-Tuominen (FIN), 1.3.-31.8.2020
Yane Calovski (MK), 1.1.-29.2.2020
Caitlyn Murphy (CA), 1.4.-30.4.2019
nabbteeri (FIN), 1.1.-31.3.2019
Meeyoung Kim & Sangjun Roh (KR), 1.1.-23.3.2018
Rika Onozaki (JP), 1.-31.8.2017
Kristie MacDonald (CAN), 1.-31.7.2017
Alex Kisilevich (CAN), 1.4.-30.4.2017
Angeli Raissa (CY), 1.-31.3.2017
Heja Jung (AUS/JP), 1.1.-28.2.2017
Kana Matsumoto (JP), 1.8.-31.8.2016
Louise Noguchi (CAN), 1.6.-14.7.2016
Thea Jentjens (NL), 1.-30.4.2016
Lachlan Herd (AUS), 1.-31.3.2016
Devon Bate (CAN), 3.8.-27.8.2015
CKÖ taiteilijakollektiivi (CH), 3.5.-23.6.2015
Nicole Prutsch (AT), 1.-30.4.2015
Janne Nabb & Maria Teeri (FIN), 15.1.-18.3.2015
Ange Taggart (GB), 2.-31.8.2014
Ruben Gutierrez ja Jaoquín Segura (MX), 1.-25.8.2013
Platon Petrov (RU), 14.-31.7.2013
Kacper Ziemianin (PL/GB), 1.-31.8.2012
Ryoko Adachi (JP), 2.8.-30.8.2011
Ralf Brück (DE), 1.7.-8.8.2010
Hironari Kubota (JP), 1.7.-31.8.2009
Marton Romvary (HU), 1.-31.7.2008
Emmanuelle Aussedat (FR), 9.7.-3.8.2007
Magnus Logi Kristinsson (IS), 1.-31.8.2006
Anna Krzystek (GB), 1.-31.7.2006
Midori Mitamura (JP), 1.7.-31.8.2005
Brian Curling (USA), 1.7.-31.8.2004
Sonja Krohn (NO), 1.7.-31.8.2003
Steve Tynan (GB), 1.-31.8.2002
Minna Hakala (GB), 1.-31.7.2002
TransHeart-project, 1.7.-30.9.2000